ORDER NOW FROM YOUR FAVORITE RETAILER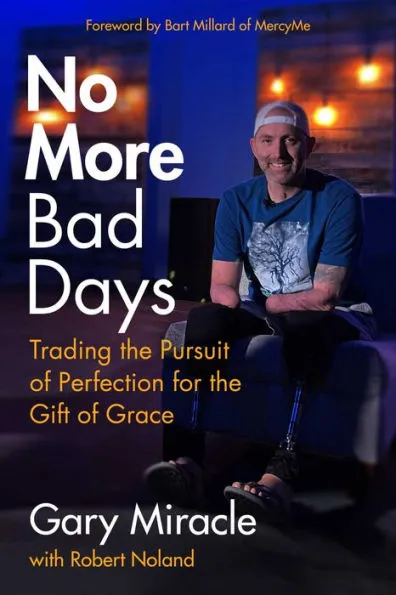 No More Bad Days: Trading the Pursuit of Perfection for the Gift of Grace
Gary Miracle's life was forever changed by an infection that caused him to lose his arms and legs. He could have given up, but he chose to live and share his story, helping others respond to their own setbacks.
When tragedy struck, Gary Miracle could have given up. Instead, he chose a different perspective, discovering depths of grace and heights of hope he had only ever heard of before.
At first, he thought he had a bad case of the flu—some kind of bug he'd caught from one of his kids. But Gary Miracle's illness turned out to be an infection so severe that the only way to save his life was amputating both arms below the elbows and both legs below the knees.
The loss of his limbs was not the only challenge Gary had to face. Excruciating difficulties marked his family life as well. In 2020, the Grammy-nominated Christian band MercyMe shared Gary's story with the world through the music video to their hit song "Say I Won't," and he emerged as a powerful voice for the grace of God.
In the spirit of Romans 8:28, understanding that God works through all circumstances, Miracle has responded in faith by helping and encouraging others who have faced personal challenges. Today, he travels the world, sharing the hope-filled message that, through Christ in light of eternity, there are no more bad days. Regardless of your circumstances, every day can be a new beginning.
If you have suffered loss, experienced trauma, or been forced to rebuild your life from the ground up, this book is for you. Gary Miracle invites everyone who hears his message or reads this book to profess, "I will have no more bad days! Say I won't!"